Highly regarded accompaniment to food
There are many reasons why Grüner Veltliner is a highly regarded accompaniment to food across the globe. First of all, it is impressively fresh thanks to the cool climate in Austria. Rather subtle aromatics of green-yellow pome fruit and an often peppery flavour make it a classy all-rounder for almost any dining table. What is more, Grüner Veltliner is a grape variety that produces different styles of wine with ease, depending on the method of maturation. It is equally alluring as a tangy-fresh or fruity-elegant type or a great full-bodied white wine. It also cuts a dash as Sekt or even a sweet wine owing to its first-rate acidity. The ageing potential of Grüner Veltliner should not be underestimated either. What more could the palate want?

Brief lesson in harmony
The wine paired with a dish should engender harmony. The wine must not only be matched to the type of meat or fish, but also to sauces, side dishes and the method of cooking. It is important to remember that the factors that make up the wine's basic structure (acidity, sweetness, tannins, alcohol content) are more important than its aromas. All of the components involved must be taken into account to satisfy the palate with a perfect blend of food and wine. For instance, although salt in a dish and tannin in wine may be an unpleasant alliance, this can be balanced out by increasing the fat content of the food. This is why red wines with prominent tannins go perfectly with mature hard cheese. The acidity of wine appears to lighten baked dishes that are high in fat. As a result, a dense Grüner Veltliner goes superbly with roast meat such as chicken or pork.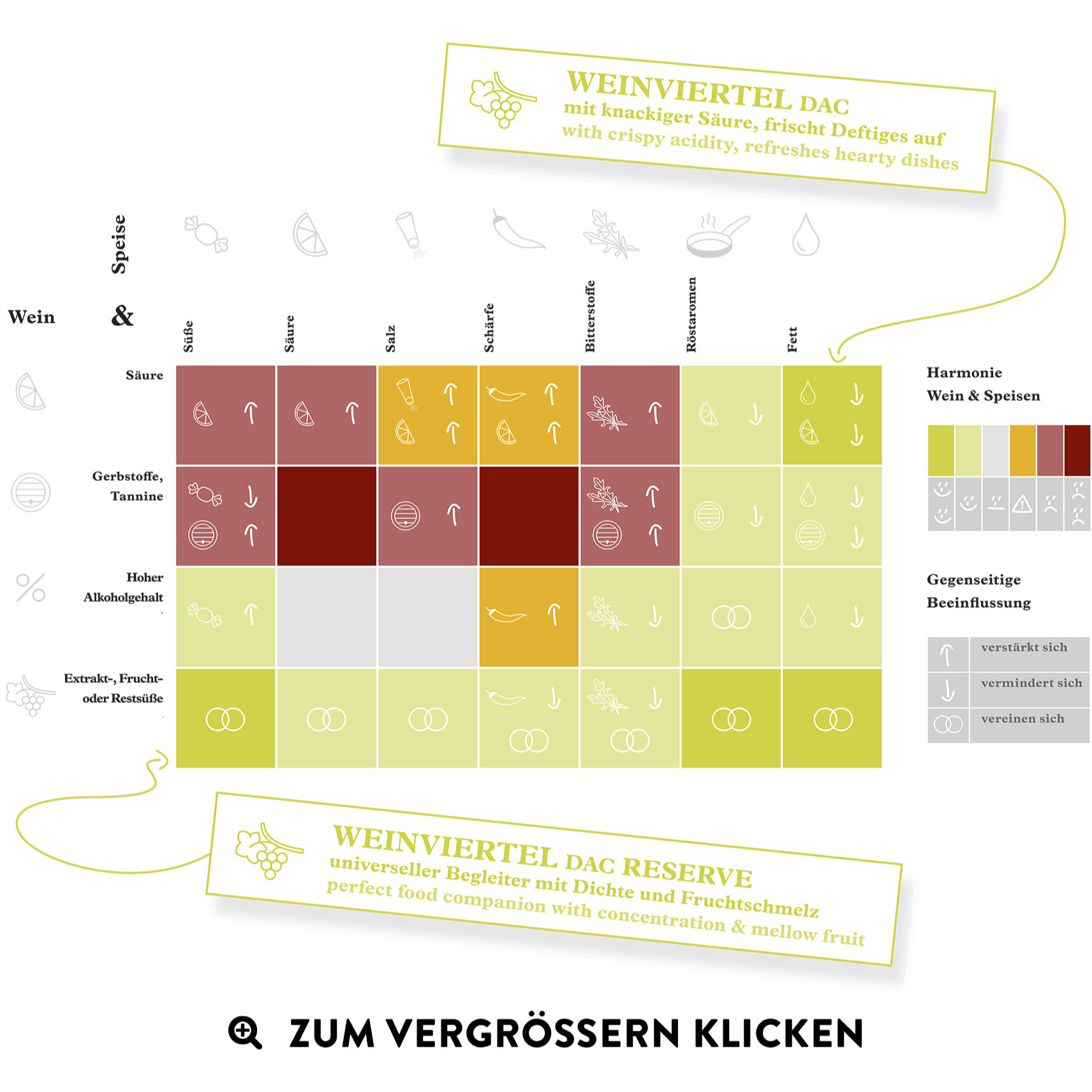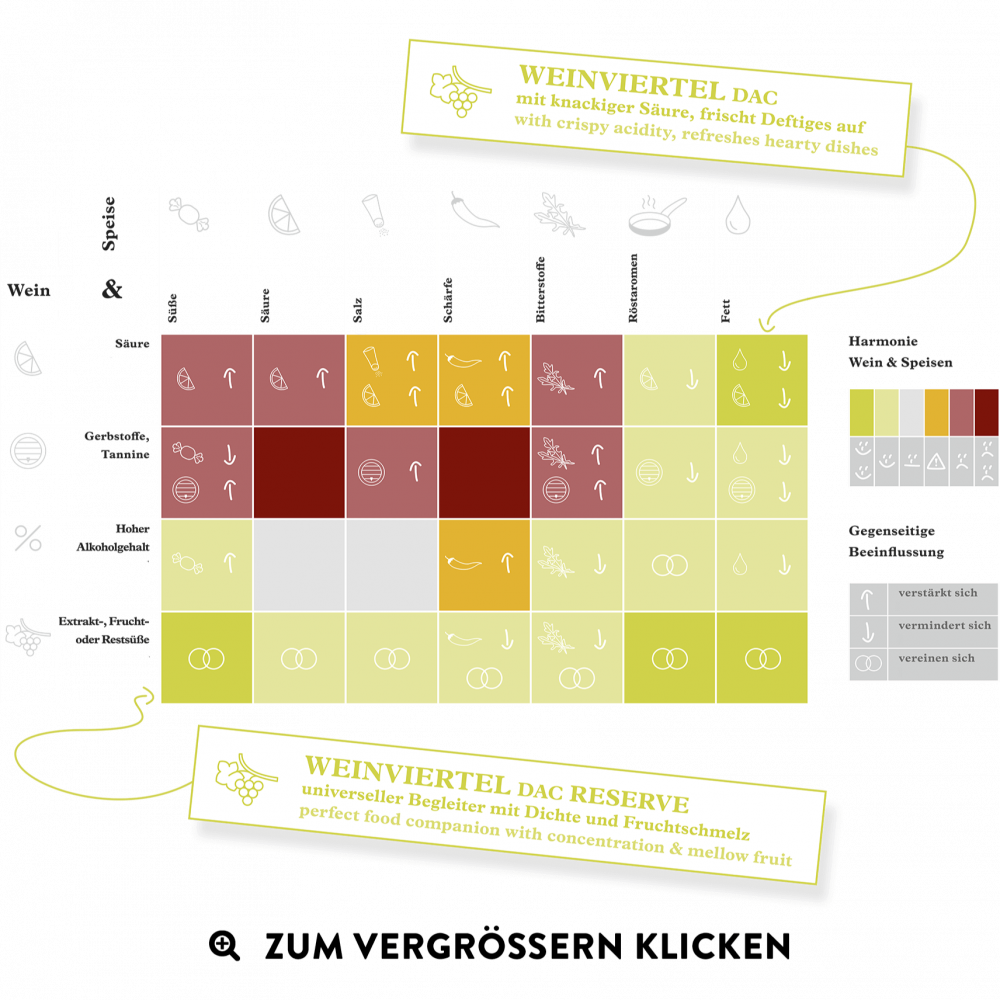 Combine the spices in a dish with wine
An element of experience is required in order to combine the spices in a dish successfully with wine. A peppery Grüner Veltliner enhances any pepper flavour already present in the dish. Wines in which oak is used, such as a Weinviertel DAC Reserve, can help to balance out the fresh pungency of ginger or spring onions. The aromatic complexity of a full-bodied Grüner Veltliner from the loess region perfectly brings out the flavours in mild curries. If herbs feature in the dish, their natural aroma comes to the fore if the wine also has vegetal notes. The same applies to lemon peel used as a seasoning, which becomes more pronounced when the wine also has citrus notes. When using lemon juice or even vinegar in a dish, it is important to remember that the acidity of the food and wine will add up. If the dish contains no fat to balance this out, the wine requires fruity sweetness and maturity to be able to withstand the acidity.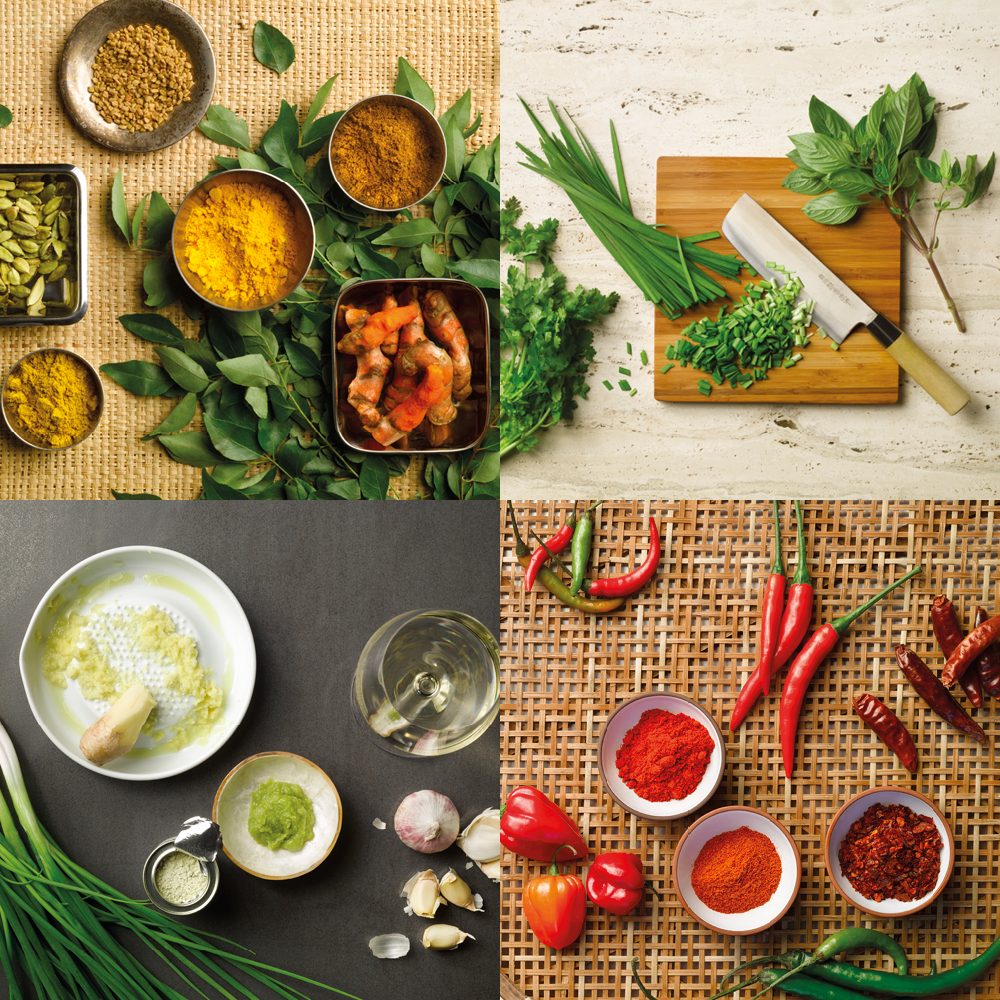 WINE & FOOD – RULES OF ENGAGEMENT
The interplay
between
all
of the elements creates the overall impression A successful partnership involves
harmony
rather than competition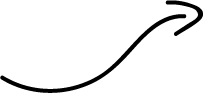 Balancing factors
: sweetness in wine, fat and toasted aromas in food
Mature wine:
elegant assertiveness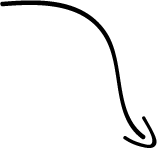 Wine sequence to accompany a set menu: white before red, young before mature, light before robust Consideration of external factors: occasion, guests, drinking habits, season