The winegrowing region 'Weinviertel' is located in the State of Niederösterreich (Lower Austria) and with 13,858 hectares of vineyards makes up nearly a third (30.5 %) of the combined area of all of Austria's area under vines and is the largest wine-producing region in Austria.
Situated south of the Thaya River, between the Manhartsberg to the west and the March River meadows to the east, the Weinviertel extends all the way to the city limits of Vienna. This fertile region of rolling hills is the oldest rural cultural landscape in Central Europe – with 7,000 years of artefacts to prove it.
THE BORDERS OF THE WEINVIERTEL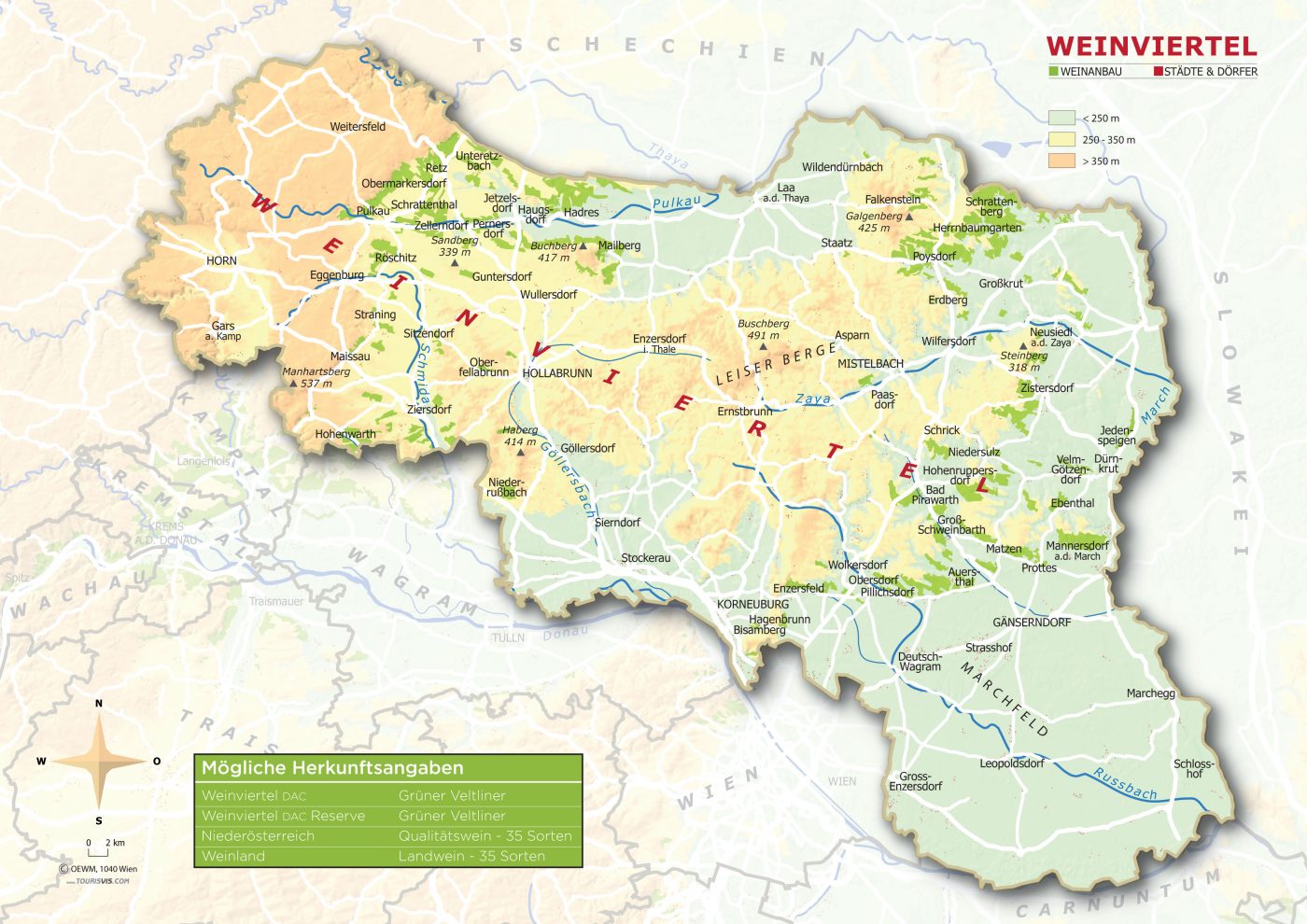 The borders of the Weinviertel are defined by the rivers Thaya, March and Danube, and by the Manhartsberg. Its division by individual districts is defined more precisely. Gänsersdorf, Mistelbach, Hollabrunn, Horn and Korneuburg all belong to the Weinviertel – Stetteldorf am Wagram is an exception, in that it is part of the Korneuburg district, but is considered part of the winegrowing region Wagram.
Bordering Wine-Growing Areas, Regions and Countries
The wine-growing areas Carnuntum and Wien border Weinviertel to the south, while Wagram and Kamptal lie to the southwest. In the west, Weinviertel borders on the Waldviertel (Forest Quarter), while eastward bound one comes to Austria's borders with the Czech Republic and Slovakia.
(Topographic map of Weinviertel, Austrian Wine Marketing Board.)