The year 2018 was a challenge in m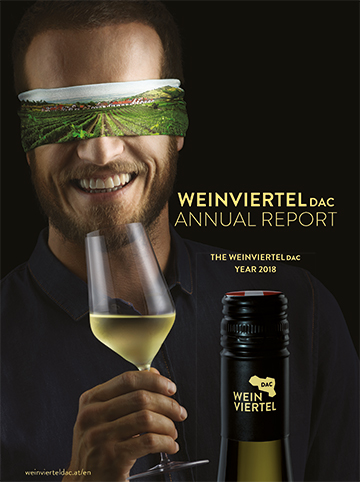 any respects. First and foremost, the weather was very capricious throughout the country. Humans and nature had to cope with high temperatures and lack of rain. There were also developments in Austria's protected designations of origin (DAC). Three DAC regions in Steiermark (Styria) and the Rosalia DAC in Burgenland joined Austria's family of DACs. Austria now has 13 protected designations of origin, each with its own specific regulations and permitted grape varieties. This poses each wine-growing region the challenge of achieving consumer awareness for its specific identity and wines. Weinviertel DAC communicates a clear message with a simple two-level system and only one grape variety. Weinviertel is Grüner Veltliner! This strong leitmotif is now communicated yet more persuasively and is integrated in all campaigns and activities.
Our success in communication enhances our deep commitment to further increasing awareness of the high quality and value of Weinviertel wines not only on the domestic market, but also among international wine professionals.
We successfully launched our yearly series of Weinviertel DAC-presentations in spring 2018. The Weinviertel held a master class at the VieVinum national wine fair in June. Our commentator Willi Balanjuk (Wine Editor of A la Carte magazine) led a blind tasting pitting Weinviertel DAC Reserve wines against international classics. The tasting was fully booked and results from the expert audience revealed that Weinviertel DAC Reserve wines do indeed live up to their promise of top quality in the international premium wine segment.
This result was confirmed again this year in Hamburg. Around 100 Weinviertel wines at the Weinviertel Sensorium convinced and enthused numerous trade professionals. We also organized several specialized tours to the Weinviertel for restaurateurs and sommeliers. The feedback from participants was splendid and as a result, many more Weinviertel wines have become positioned on wine lists at top restaurants in neighbouring countries.
Another one of our goals in 2018 was to gain more new, young consumers within Austria. We analysed our remarkable success with influencers in our social media channels from the previous year and were able to build on that. The videos and postings from two blogger trips in spring and autumn bought many thousands of clicks in new target consumer groups where we seek awareness for Weinviertel DAC.
While we eagerly worked toward raising awareness of our wines, the Weinviertel vintners applied their experience and skill in producing a marvellous vintage 2018. This vintage highlights just how important professional marketing for Weinviertel wine is. A new record is superb incentive to fervidly pursue the course on which we have embarked: we broke the magical ceiling of 5 million Weinviertel DAC bottle capsules in mid-December, once again achieving an ambitious goal!
We wish you pleasant reading with our annual report,
Hans Setzer and Ulli Hager